Vedic Society, Southampton The Vedic Society Hindu Temple has shown great interest in New Hope UK work in India and welcomed presentations on the work undertaken on a variety of projects, including care and education of our children with special needs at our Muniguda Community Centre and children with long term health conditions at our Kothavalasa Children Village.
Vedic Society : Thank you to the congregation of Southampton's Vedic Society Hindu Temple for your involvement, promotion and support of New Hope's work in India. On Tuesday 2 October 2012 Shobna Philip was able to attend the unveiling of a plaque commemorating the hospital. It is located at the entrance at the south-east corner of Watts Park and was officially unveiled by the Right Worshipful Mayor, Cllr Derek Burke, and the Mayoress, Mrs Christine Burke. Guests were first officially entertained by the Mayor in his parlor at the Civic Centre.
Vedic Society : The Mayor introduced Mr Eliazar Tumati Rose, Director of the New Hope Rural Leprosy Trust, India and Mr Vinod Desai, MBE, Patron of New Hope Rural Community Trust. We then had a talk by one of the Town Sergeants on the history of the Civic Center and the various items of regalia, prior to the party proceeding to the plaque headed by fully kilted pipers and an Indian drummer. Various speeches were given prior to the unveiling, in particular about the work undertaken in India to this day by the New Hope Rural Leprosy Trust.
The plaque being unveiled by the Mayor, Cllr Derek Burke and Mr Eliazar Tumati Rose.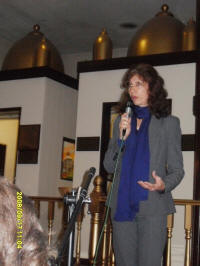 Talk by Jill Ghanouni, the trustee and secretary of the Trust at Vedic Society Hindu Temple
Vedic Society