Time for Compassion, In medieval times, leprosy was so prevalent across Western Europe that between the 12th- 14th centuries, several hundred leper hospitals or 'lazard houses' were built throughout England.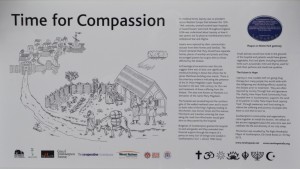 Time for Compassion, ittle was understood about Leprosy or how it was spread, but its physical manifestations led to widespread fear and stigma.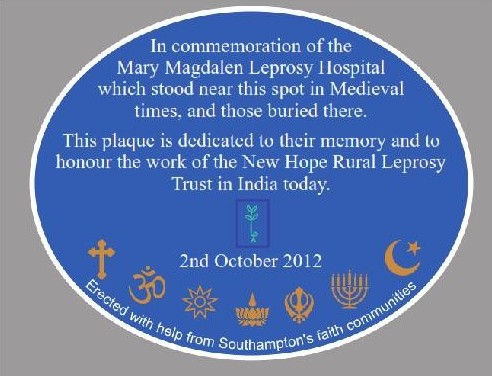 Time for Compassion: Lepers were rejected by their communities- outcast from their homes and families. The Church declared that they should have separate homes, places of worship and priests and they encouraged passers by to give alms to those afflicted by the disease. Archaeological excavations near this site suggest there was at least one significant medieval building in Above Bar where the Sir James Matthews building now stands. There is documentary evidence indicating the presence of the St. Mary Magdalen Leper Hospital founded in the late 12th century, for the care and treatment of those suffering from the disease. The area now known as Marlands is a derivation of the name Mary Magdalen. The hospital was located beyond the northern gate of the walled medieval town and it stood on both sides of the king's highway leading to Winchester, now Dorset Street and The Avenue. Time for Compassion
Time for Compassion : Merchants and travellers entering the town along the road from Winchester would give alms as they passed by the hospital. Burgesses of Southampton granted the hospital its land and garden and they extended their financial support through the impost of a penny on every 'tun' of foreign wine landed in Southampton; ('tun' = almost 1000 litres).
Time for Compassion
Small animals would have lived in the grounds of the hospital and patients would have grown vegetables, fruit and plants including traditional herbs such as lavender, mint and thyme, used for both their perfume and medicinal qualities.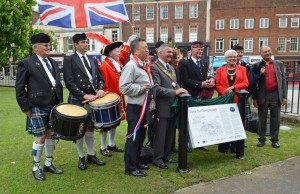 Time for Compassion : The Future is Hope
Time for Compassion : Leprosy is now curable with on-going drug therapy but many people live world wide with the disfiguring and disabling effects caused by the disease prior to treatment. They are often rejected by society through fear and ignorance. The charity, New Hope Rural Community Trust, founded here in Southampton, supports the work of its partner in India: 'New Hope Rural Leprosy Trust', through awareness and fund raising to relieve the suffering and poverty of people who have no one else to turn to. Southampton's many communities came together to install this lectern.  We reflect on the ancient segregated place this area once was and celebrate the life and diversity of our city today. This lectern unveiled by The Right Worshipful Mayor of Southampton, Cllr Derek Burke on 10 May 2013.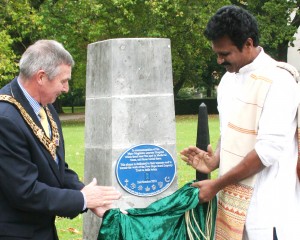 Time for Compassion: