Volunteers Fighting Leprosy, Georgie Ellis and James Bratbee, two students from Richard Taunton's College have recently linked up with New Hope Rural Community Trust (NHRCT) as volunteers.  They plan to spend their Gap Year (2014 – 15) working with New Hope in India, teaching the community's children.   The pair will be organizing events over the next two years to fund their air fares and expenses, continuing  the charity's legacy of  care for the destitute from this region.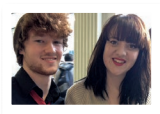 Volunteers Fighting Leprosy, Co-founded by city resident Jill Ghanouni, nearly 23 years ago, New Hope Rural Community Trust is a Southampton-based registered charity, run entirely by volunteers raising funds and awareness on behalf of the on-going work in India.  It is partner to 'New Hope Rural Leprosy Trust' in India, providing Leprosy sufferers and the destitute with care and rehabilitation. To date, NHRCT has supported the Trust in  India to vaccinate 63,000 tribal and rural village children against life threatening diseases, to care for 2000 Leprosy affected senior citizens, providing the only school in the whole of Western Orissa which cares for children with profound and multiple needs, provides schooling and further education to people with no other means, establishing self-sustainable sources of electricity and cooking fuel  and creating communities self-sufficient in the production of 65% of food supplies.
Jill Ghanouni, New Hope Rural Community Trust (NHRCT) Secretary and Trustee, says:
Almost all of us have worked as volunteers with New Hope in India and understand the challenges facing our partner Trust in rural, poverty line areas of Orissa and Andhra Pradesh.  Despite some of the incredible hardships presented to them, New Hope's work has changed lives and attitudes over the past 20 years.
During 2012, a plaque was placed in Watts Park to commemorate those who died in Southampton as a result of Leprosy during the 11th – 14th centuries in what we now know as the Marlands area.    The plaque is special to the culturally diverse community of Southampton as it has the religious symbols of 7 of the city's major faiths on it and representatives from at least 5 of the faiths were present at the plaque unveiling.
Eliazar T Rose, the Director from New Hope India was interviewed by Unity 101 radio and joined Jill Ghanouni to give presentations to the congregation of Gurdwara Tegh Bahadar Sahib (Sikh Temple) ,  whose committees and congregation donated to aid work with leprosy affected senior citizens and the children's feeding programme, and  a presentation to St. Mary's Church in Southampton, who have supported New Hope over the years.  Jill also gave talks at Southampton's Vedic Society Hindu Temple.
New Hope Rural Community Trust campaigns in 2013 are:
The children's feeding programme; it costs us about 50p per day to feed a child.
We feed over 300 children and rice has gone up in price 6 times in the past year in India.
Care for our leprosy affected senior citizens in leprosy colonies and within our two community centers.
Funding to support our young people going through further education and vocational training.
We have two university graduates in I.T and Bio chemistry, 3 x qualified nurses, a motor bike mechanic and 6 x tailors.
Call Jill Ghanouni  Contact here