News Letter Summer 2014, Dear Friends, Welcome to our summer newsletter! Thank you to Julia and the London team for your amazing fundraising! Thanks to all our amazing fund raisers! Looking out onto a warm sunny day in England as I write this, its hard to believe we were deluged by rain during the winter, with flooding that caused loss of life and devastated people's homes and livelihoods. Equally, for India working to conserve its water, as temperatures now soar into the high 40's, Cyclone Phailin must seem a life time away, yet this was a very real catastrophe last winter, as you will see in the Director's letter.
News Letter Summer 2014, You never let us down and when we discovered that homes and belongings of 371 people in the remote rural villages and Leprosy colonies which New Hope supports had been swept away, you sprang into action to help. You sent donations so that water filters, plastic sheeting, pumps and generators, sacks of rice and lentils, dry firewood, bedding, clothing and replacement vegetable seeds could be distributed to devastated areas. Gradually, people who had so little to start with and who lost it all during the cyclone, have been able to pick up the strands of their lives and start again. Our deepest thanks to you all for your help. Without you, we couldn't have done it.
We hope you will enjoy reading about New Hope's wonderful ongoing work in India and all the different ways supporters continue to help. Have a good summer,
Jill Ghanouni Secretary, New Hope Rural Community Trust.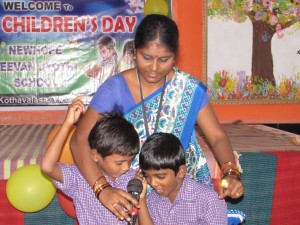 News Letter Summer 2014; – Letter from the Director – Looking back over the past year there are many things I want to tell you about. Most memorable was Cyclone Phailin which caused incredible destruction. Loss of life was minimal as the government evacuated 980,000 people from coastal villages. The cyclone's wind tail swung inland reaching the edge of Muniguda, where our community centre and rural hospital are based and I live and work. The gales and driving rain rushed through Tribal communities, in the hills and valleys, and destroyed one of the leprosy colonies which we support. Even our 200 year old mango tree, which gave a great crop each year, was uprooted
News Letter Summer 2014; After a few days the water levels receded in the flooded towns and cities, but as it was monsoon time the winds and rain swept down the coast washing out the ancient cities of Puri and Berampur. I don't ever remember feeling so cold in India! Our aid workers set out to remote settlements to assess 'damage and need' and for the next 3 weeks, many wonderful people worked long hours in an emergency relief project. Roads had been washed away so workers waded through mud taking filtered water dispensers to Tribal villages as local drinking water was polluted during the storms.
News Letter Summer 2014; Carts were built and attached to bicycles and a pump and generator were slowly pushed to flooded settlements so we could draw out the water. The carts also transported sacks of rice, potatoes, onions, dry firewood for cooking fuel, hens, first aid kits, clothing and bedding –
the bicycle is a multitasker in India!
How to download the PDF Version
We send the document to you via email, please put your full details in the form below.
Remember to check your SPAM/Junk folder as the email we send may end up in there.
If email is in your SPAM/Junk folder move email back to inbox, so the active download link will work.
Please remember to SAVE the document after opening.
Apple mobile devices should open/copy the document in iBooks to save.
The Digital link we have sent you is active for 72 hours only.
Downloaded 1 times.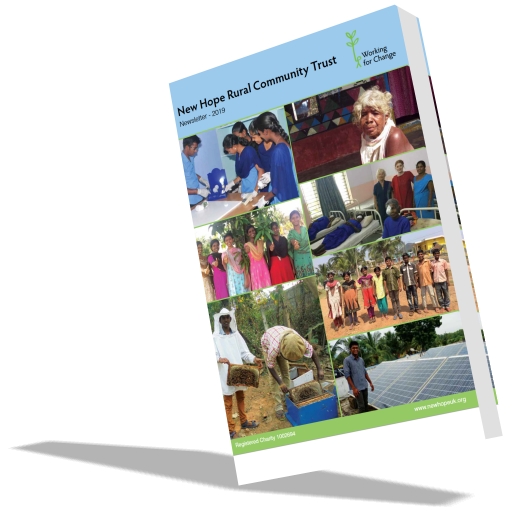 Newsletter 2014 - PDF Free Download
This PDF Newsletter is Free, simple enter your details and we will send the document direct to your email address: Print when you have a local copy in your device, print double sided. It's your choice. We are delighted to be able to share with you the progress made by New Hope Rural Community Trust UK over this past year - a time which has seen both good and sad news along with great outcomes and challenges. - THIS IS A DIGITAL PRODUCT ONLY.
News Letter Summer 2014