Love Bundles, When you buy a Love Bundle you will receive a Love Bundle card, made by our children to send to a friend or relative to show that on their behalf instead of a gift that they probably don't need that you have sent a Love Bundle on their behalf to someone in New Hope Jhan Jhur Leprosy Colony, patient or an aged widow from a Tribal village It's a great feeling to give a gift of love.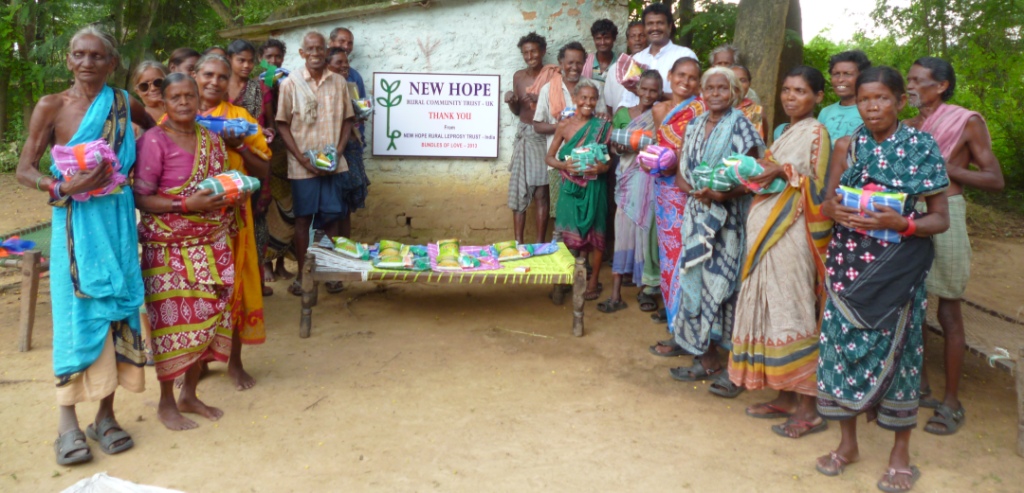 Love Bundles; During 2013 New Hope distributed Love Bundles in the aftermath of the Hud Hud Cyclone. In the recent Bike Ride the patients at the New Hope Gandhi Memorial Leprosy Hospital, a 20 bed medical centre, received a Love Bundle. It was a surprise for the patients and a great joy to see the excitement as they opened them up and realised that they had new shoes, sheet and Sari. As well as our Leprosy patients at Jhan Jhur receiving their gift, this Christmas, the Love Bundles are also part of our care outreach to below poverty line widows and very aged in the hill Tribal villages where the majority of people live well below the poverty line. The gifts are not just presents!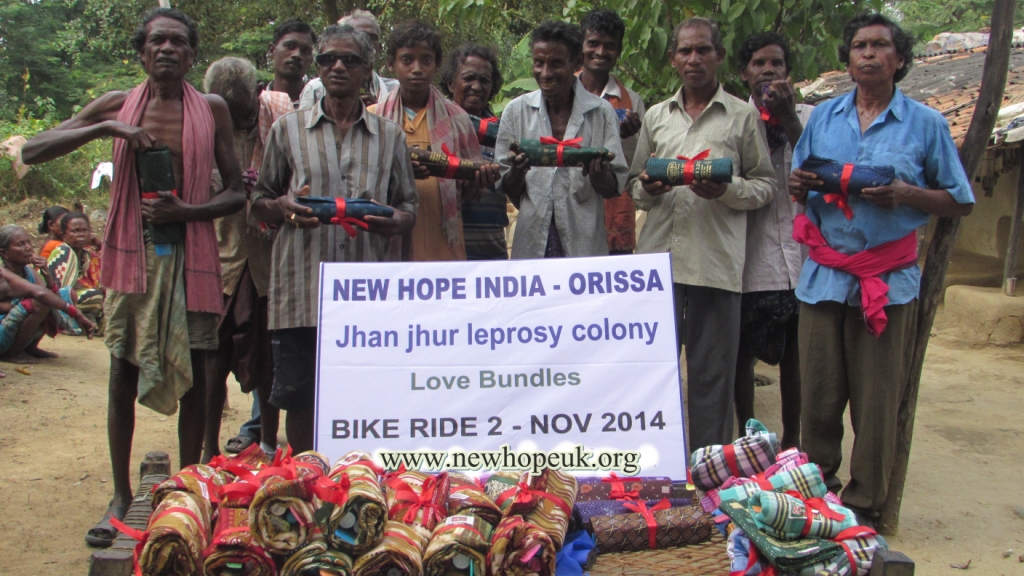 Love Bundles
The person who receives a Love Bundle is in real life terms only having this one small support opportunity in a year or even in two years. For most, the clothing part of the Bundle is their only time to get new clothing. It is sad in many instances to see the people we find in need having literally no more than rags and after a living a 'hand to mouth' existence all year a piece of soap in their Love Bundle gift, is more than a luxury! Your support to this cause, this appeal is full of true care giving, We are looking to helping 820 in need of this gift this Christmas.
May You have a Wonderful Christmas and Happy Peaceful 2015.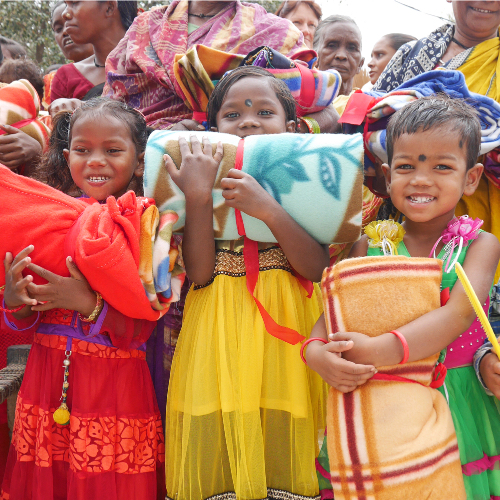 Bundle of Love - Donation
Our love bundles are given out at Christmas time. Mostly to Leprosy colonies whom New Hope care for. Each love bundle includes a Bed Sheet, Towel, Sari (or Loongi for men) Sandals (made at New Hope by our Cobblers), Soap, Coconut Oil, Talcum Powder, all wrapped up with a big red bow.
EUR €14.04
Eliazar T Rose, Director – New Hope India.
Jill Ghanouni, Founder Member, Secretary – New Hope UK
How to download the PDF Version
We send the document to you via email, please put your full details in the form below.
Remember to check your SPAM/Junk folder as the email we send may end up in there.
If email is in your SPAM/Junk folder move email back to inbox, so the active download link will work.
Please remember to SAVE the document after opening.
Apple mobile devices should open/copy the document in iBooks to save.
The Digital link we have sent you is active for 72 hours only.
Downloaded 0 times.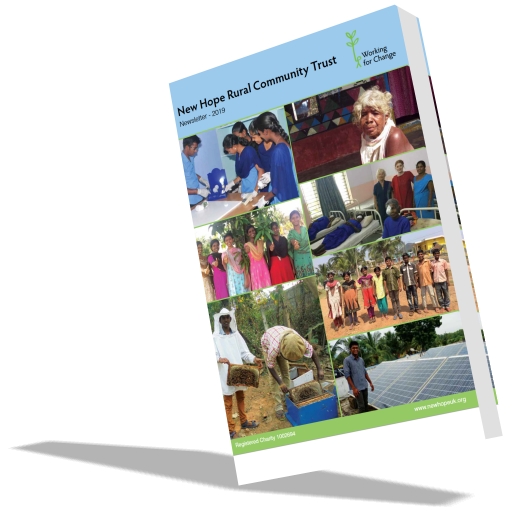 Newsletter 2018 - PDF Free Download
This PDF Newsletter is Free, simple enter your details and we will send the document direct to your email address: Print when you have a local copy in your device, print double sided. It's your choice. We are delighted to be able to share with you the progress made by New Hope Rural Community Trust UK over this past year - a time which has seen both good and sad news along with great outcomes and challenges. - THIS IS A DIGITAL PRODUCT ONLY.