New Hope Schools Situation, Our schools situation has been a great concern for Ruth and I. Due to the Covid lockdown, households were not allowed out of their area. Families who could afford to pay for education unable to send their children, resulting in a huge financial loss for our school As the pandemic wore on, those same families were themselves heavily impacted with many losing their jobs and livelihoods. We have sadly had to take the decision to suspend our school programme for a year in order for the economy to pick up again and for a return of children from families able to pay. It is the fees paid by these families which help to fund the education of our orphaned children. New Hope looks forward to 2023 when we are able to open our school. Ruth and I have arranged for children from those families who would have lost out to be able to attend a government school so that they do not lose out on their education.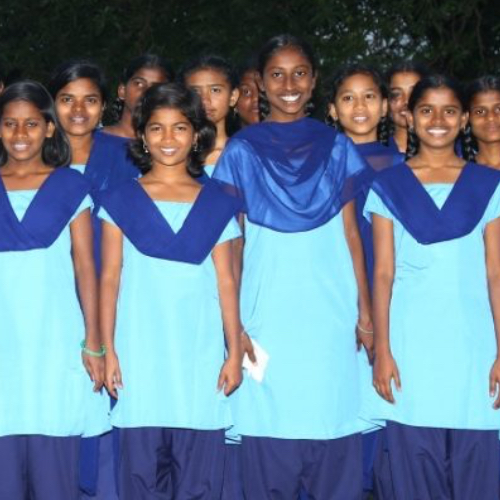 School Supplies - Donation
An important part of the work at New Hope India is providing the children with an education. Your donation will assist in the purchase of school supplies
EUR €11.70
It is with relief that we can let you know that our Rainbow School, for vulnerable children with highly compromised immune systems due to HIV, is continuing to run. Orphan children even though Ruth and I are their Guardians were told to return to their last address! This was one of those red tape rules that put children at risk. So for example a 'uncle' came and left the child with us because both parents had died. Mother came as husband deserted and she begged to survive went back to the very situation that was the reason for them to be with us! No child from a economically sustainable situation comes to New Hope. It meant we supported aged Grandmothers to care for a child who they may in real life hardly seen the child. It was a stressful situation . These are children who were in a safe environment put out in areas where Covid was rampant. The children had clear instructions on safety. Most 'persons who took a child' also understood the risk that that they would somehow be held 'responsible if the child became infected by their neglect. Six months and slowly we simply 'manipulated the system! Its hard to express stress at this time.
New Hope Schools Situation
In the midst of all that we have struggled to ensure senior girls were cared for in skill training the senior girl in the photo below has a Grant to cover a major part of her Auxiliary Midwife Nursing course – Thank you Soroptimist – Manchester.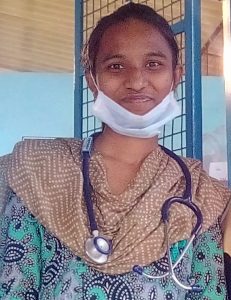 Last winter priorer to Covid the Namaste House group all received 'beabie' caps – This was a gift plus for them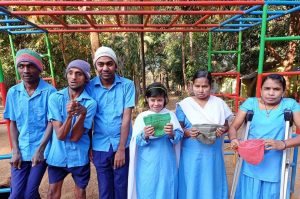 Roellis Garden – Childrens Community Centre – Kothavalasa – Chickens, Goats and Cows with Bees too; it changes to suit the 'green situation'. Part Beehives, Hens goats live in the area.. Cows next door but get Roellis Garden grass. It has Passion fruit (lost in last storm like all the vegetable garden. Wind blew down vine trellis and vine growing frames, washed away drip irrigation – still recovering.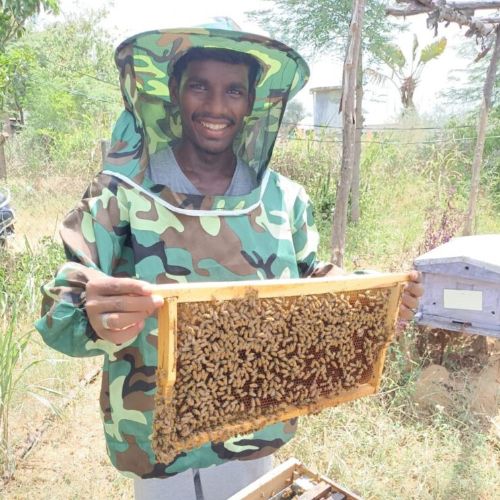 Bee Hive Maintenance - Donation
Bee hive maintenance is a job done by some students and local people who have an interest in the maintenance and upkeep of the hives and bees. Your donation will go a long way with assisting them to purchase protective clothing and other items.
EUR €19.89
Bee Hive Project – We did not expect a high yield in the monsoon season, but we were surprised how good it was. However there is a still a sad cloud over the Bee project. The two main persons who have maintained it – Sreenu and Ramu. We made many jokes about and to Srinu having so many 'girls friends' – He started by jokingly saying one day 'I'm king of the bees'. It rebounded of course. He 'crafted' the project and taught a younger senior oo manage 'ordinary work' on Hives. Its not as easy as one thinks. Ramu travels twice a week to support the checking that needs to be done. Both were trained in Beekeeping. Srinu passed away. No signs of Covid but he had travelled that was a little upsetting. On return he was 'well' Then within five days passed away. Its similar to many senior born HIV+ to pass like this. Conscious talking in coherently to within an hour of passing. A sad and great loss as he was also our intrepid garden planner. The hives are about to expand in number with change of season and we aim for 34 hives!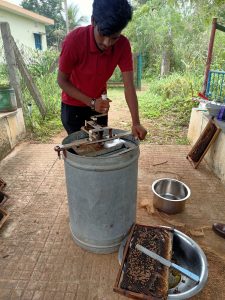 Oathsworn Project – In all though its one of the most well used land areas. The major borewell collapsed and through a generous donor in U.K, was 're-drilled' and working again. It was a drama!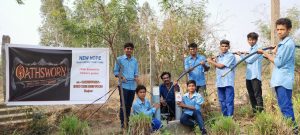 New Hope Schools Situation