Cycling for New Hope, 110 miles, 3 days, 6 years old! Hannah Killick, who is just 6 years old, has just completed a 110 mile bike ride in 3 days!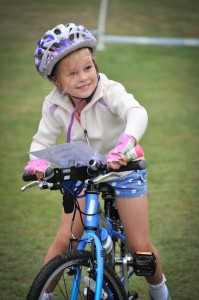 Cycling for New Hope : She cycled from Bristol, where she lives, all the way to Reading, where both sets of her grandparents live. She was accompanied all the way by her dad, Adrian, and also by other friends and family along the way. Hannah raised money for an organisation called New Hope who care for orphaned and HIV+ children in India. When asked why she decided to set herself such an extreme challenge she said "The children who New Hope helps are really poor and need things which we all have. I really wanted to do this so they could have that stuff. I got the idea from Miss King (a teacher in my school)! She ran over 150 miles across the desert Sahara Desert for New Hope. I like cycling, so I thought I could do the same thing on my bike. I wanted to cycle from Bristol to Reading because I live in Bristol and my Nanna & Grandad and Nannie & Grandad all live in Reading." Hannah spent the summer months training for this challenge and also went on a "bikeability" course to learn road safety rules. Day 1: Bristol to Devizes – 44 miles, Day 2: Devizes to Newbury – 41 miles, Day 3: Newbury to Reading – 25 miles. Since completing the event Hannah has reflected on her achievement and answered the following questions to provide an insight to what it felt like: Cycling for New Hope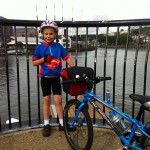 Cycling for New Hope
What was the best thing? "Cycling with everyone who cycled with me (daddy, Auntie Fi, Grandad and Mummy) and spending time with daddy. They all kept me safe and cheerful"
For her final mile Hannah was accompanied by her whole family, including her 4 year old brother and sister! The ride ended underneath a huge "FINISH" banner where cakes, scones and a celebration party were waiting for her!
What was the hardest thing? "The cold on the first day and the Hills on the third day" As Hannah set off at 7am the temperature was 0 degrees! It took a long time to warm up, a bacon butty and hot chocolate stop helped at 10 miles! Cycling for New Hope: What were the most difficult bits? "Waiting for lunchtime!"
Hannah had her first wobbly tooth on day 2 and she was unable to eat much after the ride, thankfully it fell out the next morning so she was able to eat a huge breakfast on the final day!
What was the best thing you saw? "3 deer running across the road and jumping into the hedge" Hannah also loved all of the autumn leaves and seeing lots of different countryside they passed through. Can you sum it all up: "I loved it, it was brilliant! I definitely want to do more cycling in the future. I'm really glad that I raised enough money to feed lots of children at New Hope, thank you!"
So far Hannah has raised £1,806 which will go towards funding New Hope's feeding program where it costs 50p per day to provide a child with 3 hot meals (her sponsorship will feed 10 children for a year). If you are blown away by Hannah's achievement then please support her by making a donation. You can text £5 by texting "nhrc00 £5? to 70070 (Text £1, £2, £3, £4, £5 or £10 donations) Alternatively visit her fundraising page.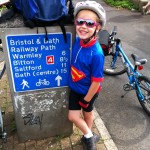 Cycling for New Hope